Mansion something sa Brgy Maitim, Tagaytay city
Walang may hindi kilala sa tambalang ito ng GM@-7. Kaya to earn big bucks na naman aside from their usual TV shows, aba, why not make a movie out of their love team?
Ergo, "The Promise"
And binibida nila dito ay ang kanilang "Love scene", claiming that this is the first time for the two. (Talaga lang ah)
"The Promise" starring Angel Locsin & Richard Gutierrez
Opening on Valentines Day
GMA & Regal films co-produced this chorva film, tse.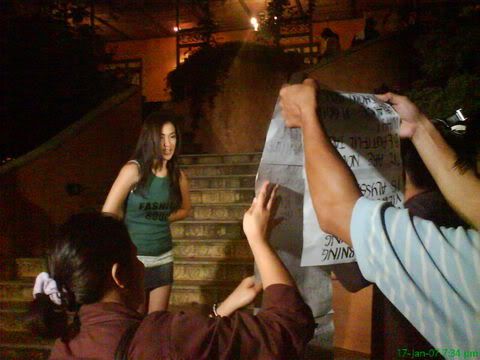 Alyssa struggling with the script, ponyeta
Notes:
1. Ang Tagaytay ay malamig; it is never wise to wear my trusty 3 inch platform havaianas dahil hahamugin ang talampakan ko. Siguro kaya sumakit ang tyan ko. I have no idea whats the connection, haha.
2. Kapag sinabi na ang shoot ay 5pm, expect na magsimula kayo ng shoot 4 hours later.
3. Overrated ang mga artista na to, tse. Pero okay naman sila.
4. Guest host Alysa Alano is clueless as an interviewer. The only thing that made it worthwhile was because mali-mali sya mag-english, and the viewers like that. Maraming viewers= higher ratings. Ugh, Pinoys have this penchant of making fun of those people who can't speak
English correctly
kasi, tsk,tsk. What the hey. That's why Alyssa is so popular sa Youtube. Poor kid. She's so sweet though, and she's loving the instant fame.
5. Pressure mounted when my EP (executive producer, my boss) told me to produce a teaser plug to be aired on Saturday para tumaas ang rating at manood sa Monday airing (eeeeep, pressure?!?)
6. I'm not gonna waste my money watching that, tse.