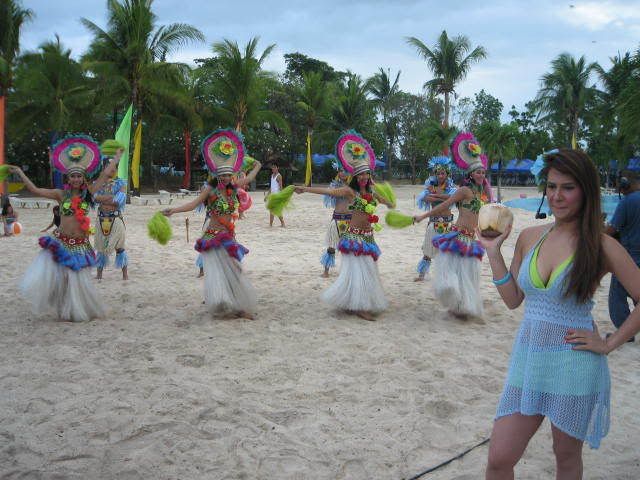 Live Event 5:15am- 8:30am
Notes:
1. Not bad for a resort, wave pool just looked icky. (As if naman apektado ako dun hindi naman ako
marunong
mahilig lumangoy
2. Live remote show my mind was wandering, I loved that wonderful distraction, kiligers. It's not even a distraction, it's an uncontrollable impulse my mind constantly does. Uuuuy.
Unang Hirit Summer Obb Shoot 10:00am-4:00pm
The UH Jeep that traipsed down from GMA Network Center in Manila to Binan, Laguna
One of the scenes where Love seem to lash out her frustration to Regine & Lyn (shempre joke, they're just too cute)
Teng's point of view:
(Staff-photo op nila naks- L-R Suzette, Ate Carol, Ate Jean the bossing, Ate Sharon, Carmelo, CJ and pretty in pink Shelly--All of these are women, mind you)
Ate Carol's point of view from her camera
1. Obb- Opening Billboard- This is what you see, (like a music video) whenever a show starts.
2. Every year we have a summer OBB shoot. This runs the entire summer season, for two months.
3. Over-all rating of the resort on a scale of 1-10 being 10 the highest- 8 Not bad because the weather in Laguna is nice, as opposed to
last year's location
4. This year's absentees: Eagle & Drew- May sakit daw
5. During the shoot, my mind still kept wandering, I so loved that wonderful uncontrollable impulse my mind constantly does. Uuuuy.