Pacquiao Arrival coverage
Airport-Manila City Hall then finally- Manila Hotel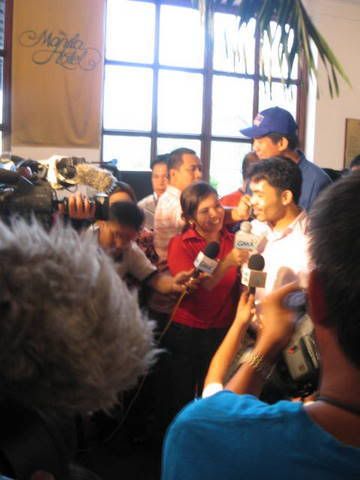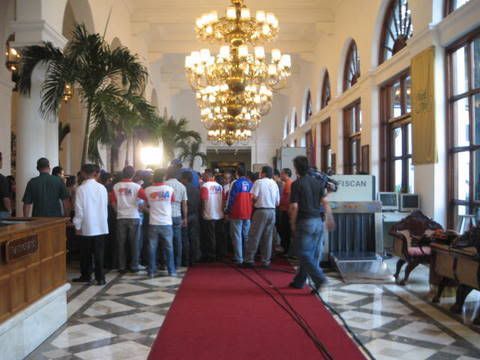 Nasa kalagitnaan ako ng panaginip ng tumawag ang asawa ko at around three in the mornin. When I hung up after talkin to my candyman, I saw 5 missed calls. Nyeta! Akalain mong tinatawagan pala ako ng mga kasama ko as early as 11pm the previous night. Turns out darating si pareng Manny fresh from winning that boxing title in San Antonio, Texas and kelangan din daw ako sumama sa coverage.
Pota. I had the 2nd quickest shower in my bathing history and flew to the location.
The coverage wasn't actually as unruly and messy as compared to the last time he went home after a fight. I was happily traipsing Manila Hotel in my hot shoes and girly purple blouse, haha.
---
The coverage, objective and content-wise, I believe was near disaster as the two networks were up to thier necks to prove who's better in airing the story. It didn't help that our reporters and the other station's were both (almost) inconsiderate in sharing the Pinoy boxer icon. Apparently taking turns in airing live is not an option, it is never considered. Get the better angle, ask the better questions.
---
All the while my thoughts were somewhere else. Just thinking that if this boxer guy does continue to run for politics, he's heading for a catastrophe. To quote him some months ago when it was rumored that he's running for politics, he uttered, "
I'm a boxer, not a politician..."
So what the hell happened to that statement he made?
---
I have to hand it to our reporters, of course. It's not easy to spurt out questions when the competition is so hell bent on capturing the attention of the same interviewee, never considering any form of respect to their colleagues.