Okay, use her up until everybody gets tired of her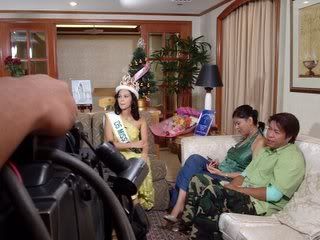 Waking up with 2005 Miss International-Richmonde Hotel, Ortigas, Pasig
Teng, call (fill in the name of a certain organizer from Bb. Pilipinas here) so that she can screen the questions your hosts would ask...
Was the text message of my team head when she told me to go for this assigned coverage. I've heard about how Bb. Pilipinas being notorious about protocols and their very strict guidelines when it comes to media exposures of the beauty titlists and I have no choice but not to bend their rules. After all, this segment would certainly be a hit, as Precious Lara Quigaman is the hottest item this week after winning the Miss International title which mader
Melanie
Marquez
snatched 26 years ago.
There were Japanese press people all over the presidential suite of the hotel where Precious was staying, I felt like they were a part of this clandestine operation or something. They seem to also be watching every single move of my crew the entire time we stayed in the suite, for over 3 hours. I felt one move and we're dead.
Then again it must be the loss of sleep and exhaustion in me talking causing paranoia. Hay