Shooting 4 birds with one stone---literally shooting ito haEvent # 1 (Live)
Waking up with Jon Santos- Ayala Westgrove Heights, Silang, Cavite
We pulled out as usual, around 1-2am Cavite bound. We arrived at Jon's house and he's already up and made sure that all of us had our tummies filled with his arroz caldo and (wow!) black coffee.
John Santos is such a talented impersonator that the first airing of the segment was a hit, I think our segment even took longer but the studio was busy laughing at his antics of impersonating each character he has portrayed to even care of having the segment wrapped due to time constraints.
All in all, the coverage went really good. After we packed up we drove back to Manila.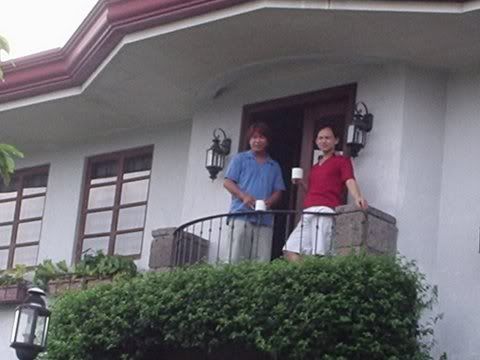 Event # 2 (Taped)
Concert session with the APO Hiking Society-Thirdline, Inc. Loyola Heights, Q.C.
Arriving in Manila before lunchtime, we then arranged for another shoot. This time the APO which will be taped as live. Meaning we're gonna tape it and make it appear as live (still with me?)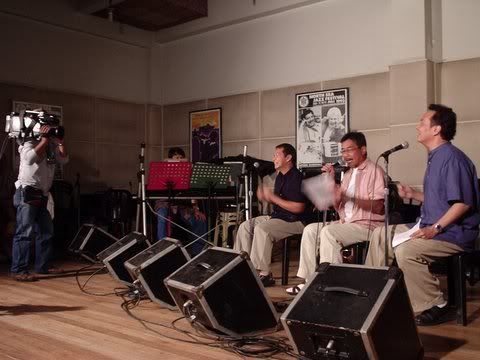 (L-R) Boboy Garrovillo, Danny Javier & Jim Paredes
Boboy Garrovillo is a funny fella he kept distracting my commands
Danny Javier
does watch
our show and even demonstrates one of our hosts' popular spiels. Love Anover's "...and everythaaaaaaaang!"
I loved talking to Jim Paredes-- we're like the same age, he blogs, he likes Rex Navarette and he's really nice
--
At the end of this day I immediately passed out. I badly needed the rest