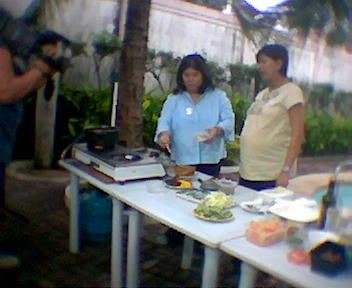 Cooking with Ms. Jessica Soho- Golf Hills Terraces, Capitol Hills, Balara, Q.C. Nov. 5, 2004
HELL THIS WAS SOMETHING THAT TOOK QUITE A WHILE TO MOUNT!
I think I spewed a million curse and expletives to last my whole twenty one years of existence just to mount this event. But all that was really worth is when Ms. Marissa Flores, VP for News and Public affairs commended us for a job well done.
Never mind that I had to find to the ingredients from separate parts of Quezon City, forget that the location was expecting me to pay them over P15,000 and forget the fact that Mam Jess herself almost backed out. It was all worth it.
---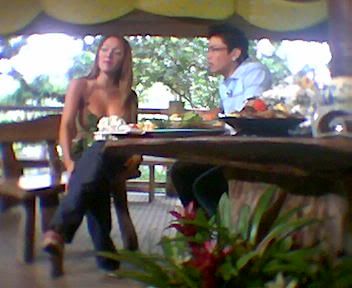 CalloSpa with Ethel Booba-October 8, 2004-Callospa, Antipolo
Ethel Booba is hilarious! Every statement coming out of her mouth is enough to send you laughing till the live ends. She's really cool. Our ratings shot up everytime our segments would air. The Location was also terrific, Callospa is amazing.
---
Gising-giling with the Dancesport champions-October 4, 2004-Danceports Studio, Pasig
Boy, these kids can really dance. I ran out ot things to say. They were really THAT good. Coach Bong, (the one in white) is one of the coolest persons around. Regine was excited about this event, as one of her extreme passion is dancing. Aside from Dancing, she also loves designing dancing costumes. As seen in SOP, so this event was something that made her shriek like a girl when given a huge dollhouse.
----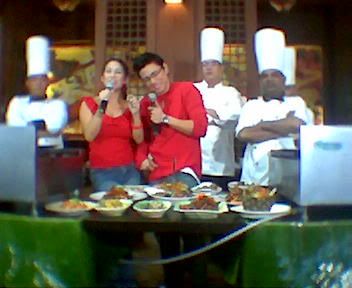 Cooking ala Iron Chef-September 22, 2004, Banana Leaf Curry House, Restaurant Strip, Ayala Alabang
Iron chef? More like a Curse showdown. I think
Ate Carol
, Christian (our Van Director) and myself spent probably three hours cursing mounting this event. I'd rather keep mum, lest I lose my job. Heee. :)